Corruption a bigger threat to India than Pakistan: Anna Hazare - Rediff.com News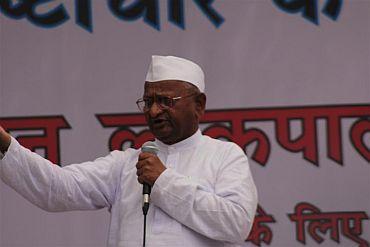 Activist Anna Hazare's campaign against corruption gathered steam as he received support from scores of people across India on Monday. But for Hazare this fight is nothing new. He first raised his voice against malpractices in the system in the early 1990s, reports Sheela Bhatt.
Hazare's is campaigning for a compressive Lok Pal Bill to give wider powers to the ombudsman to check corruption attracted a huge crowd of over 3,000 people at Jantar Mantar in New Delhi. Noted reformist Swami Agnivesh, former Indian Police Service officer Kiran Bedi, Right to Information activist Arvind Kejriwal and Supreme Court lawyer Prashant Bhushan were among the prominent personalities showing their support to Hazare.

Hazare's fight is against the Lok Pal Bill. The draft of the new bill to deal with corruption is ready since 2010, but the government's intention is to present its watered-down version, which many activists are opposing. Experts believe that even if the bill is passed in Parliament it won't nail corruption.