http://www.rediff.com/business/slide-show/slide-show-1-baba-ramdev-takes-on-mncs-in-his-own-style/20110415.htm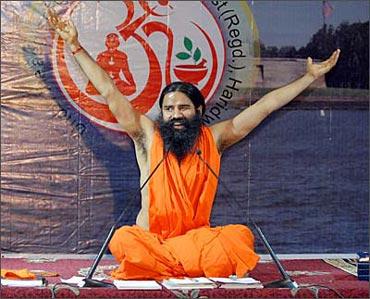 Shishir Prashant in New Delhi
Baba Ramdev, one of the fiercest proponents of the Swadeshi campaign in India, has joined hands with packaging solutions company, Tetra Pak, to develop an array of new range of ready-to-drink health beverages in aseptic packages of different sizes and shape.
In the United States, the yoga guru has also acquired an Ayurvedic medicine company in the name of Herbo Ved, for an undisclosed sum to sell the new products abroad.
Back in his mega Patanjali Food and Herbal Park in Haridwar, Uttarakhand, established with an investment of Rs 500 crore (Rs 5 billion) across a sprawling 125 acres of land, Baba Ramdev has set up two manufacturing machines of Tetra Pak.
These units have a capacity to produce 32,000 packets in one hour. All the new products will be free of any preservative and can be stored for up to six months.
Significantly, Patanjali Food and Herbal Park is religiously following the Food and Drug Administration norms of the US, considered to the highest in the world, he added.