Why India must support Tibet, courtesy Acorn
: "
Courtesy Acorn, here is one very good reason why India must support Tibet (emphasis added):
Tibetan is the only language to preserve the entire range of the Buddha's teachings, including the texts on logic and theories of knowledge (epistemology), which we inherited from India's Nalanda University. This is a system of knowledge governed by reason and logic that has the potential to contribute to the peace and happiness of all beings. Therefore, the policy of undermining such a culture, instead of protecting and developing it, will in the long run amount to the destruction of humanity's common heritage.
The above is an extract from the Dalai Lama's speech at Dharamsala earlier this month. As Nitin noted:
If the hardware of Nalanda was destroyed many centuries ago, the software lives on in Tibetan culture. This is an important reason for Indian society to support the preservation of Tibetan culture.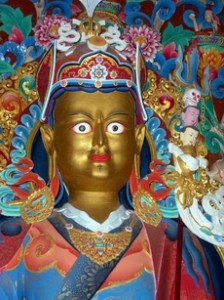 While on this, don't miss the live chat on Arunachal, Tibet and China, this Sunday, 27th March at 930pm. Please register here. Pl note this is a text-only chat.
Image courtesy: John Hill via Wikipedia taken at Kulu, Himachal Pradesh